1.1 Please describe your project. What is it doing to improve Cardano?
Yamfore is a decentralized, non-custodial lending protocol on Cardano that offers crypto-backed loans with no margin calls, no ongoing interest repayments, and indefinite loan terms.
1.2 What does the Token do? How many holders does it currently have?
The CBLP token is the native governance and utility token of Yamfore. It is required to use the protocol's services and provides a decentralized and fair way for individuals with the most monetary stake in the protocol to participate in governance. The CBLP token has three main utilities: Utility, Liquidity, and Governance. The CBLP token currently has a total of 1060 holders.
1.3. Why do you want a MIN Farm? How does the Minswap community benefit from offering a MIN Farm for your Token? Apart from the MIN Farm, will you add your own Token as incentives as well (Double Farm) If yes, how much?
The purpose of establishing a Triple Farm on Minswap is to increase community engagement and boost liquidity for the native CBLP token. This will be accomplished by offering additional rewards in the form of CBLP tokens to users who participate in the farm, in addition to the regular MIN farm (MIN + ADA). The increased liquidity will benefit both Minswap and Yamfore, as it will attract more traders and reduce slippage. A total of 2 million CBLP tokens will be added to the farming program, with an expected farming period of 180 days (6 months). Additionally, 1 million $CBLP tokens will be gifted to the Minswap treasury DAO with the condition that the gifted assets cannot be sold for at least 1 year after the date of donation.
1.4. How much circulating supply is there of your token? Please inform us briefly on your tokenomics, including the distribution and vesting schedule of the token (investors, team, yield farming, etc.)
There is a total fixed supply of 1 billion CBLP tokens, which will be distributed to the community in a fair and transparent manner. Yamfore is committed to a community-focused token distribution, with 75%+ of the tokens allocated to community members. This ensures that the CBLP token is distributed to those who are most supportive of the protocol's success, and not just to a select few affluent individuals.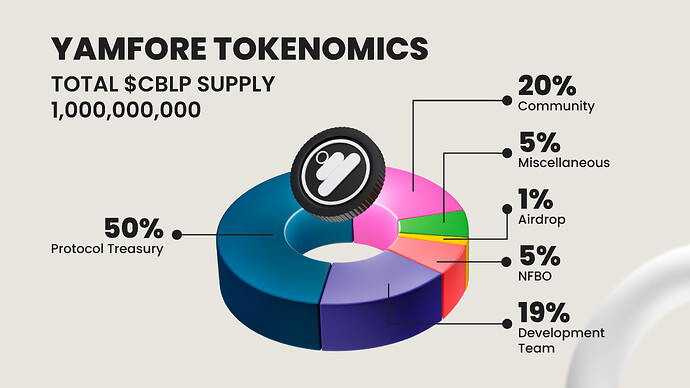 Cardanoscan: Token CBLP - Cardanoscan
Policy ID:
ee0633e757fdd1423220f43688c74678abde1cead7ce265ba8a24fcd
Fingerprint:
asset1vha2kdkxfegsam7qxr5hw8h7yglg9aljcphxph
*Note: The official team wallets can be easily identified by searching for their respective ADA handles. This was done deliberately to ensure full transparency of funds.
$CBLP Treasury ( $yam_treasury )
50% of CBLP will be allocated for the CBLP treasury, which enables individuals to indirectly provide liquidity to Yamfore via the CBLP auction portal.
Community ( $yam_community )
20% of CBLP will be allocated to the community, with all generated revenue going towards bootstrapping the stablecoin treasury via the Fair Token Offering (FTO)
( The details of the FTO have yet to be released )
Miscellaneous ( $yam_misc )
5% of CBLP will be allocated for miscellaneous development costs. These included: CBLP liquidity provision, auxiliary development costs, community building initiatives, partnerships, bug bounties etc
Airdrop
1% of CBLP will be allocated for the community airdrop.
NFBO
5% of CBLP will be allocated for the NFBO event.
Development Team ( $yam_team )
19% of CBLP will be allocated for the core development team.
Yamfores' vesting schedule is simple and straightforward. The team's token allocation will be fully distributed over two token unlocks: the first on October 1, 2023, with 82.5 million $CBLP tokens unlocked, and the second on October 1, 2024, with the remaining 82.5 million $CBLP tokens unlocked.
1.5. Is your Project audited? By whom?
Yamfore will undergo external auditing before mainnet launch. You can view our official audit reports and codebase via our GitHub once officially open-sourced to the community.
Should CBLP Farming be introduced?
Yes, introduce CBLP Farming
No, do not introduce CBLP Yield Farming