Hi guys, I've been in the crypto space for about a year and am studying blockchain at university so I have a theoretical grasp of the technology. This past month I've been doing my first bit of staking/yield farming to learn more and improve my game.
I've recently deployed Ada into Minswap farms, which went through fine. I Zapped into ADA-NMKR and ADA-MIN, getting my LP tokens and staking them easily enough. My problem has come after trying to zap-in to the ADA-PAVIA farm, and also harvest from my NMKR and NAM farms.
I keep getting the error:
Unexpected error value: "UTxO Balance Insufficient"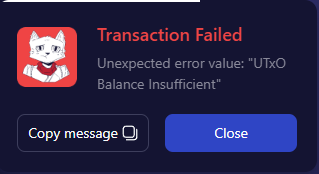 I'm using Nami wallet, and already have the LP tokens for the ADA-PAVIA farm.
Here's the wallet screenshot: Screenshot - 28a718f1c80f9984a0775fa229fa3b98 - Gyazo
Is anyone else having this issue and can anyone help me solve it?
Thanks